About 90% of my work is B2B tech copywriting. But this piece is relevant to anyone in creative marketing, whether it's B2B, B2C, tech, FMCG and anything else.
What's been your most expensive purchase for your home?
For me, it's been a cast iron woodburner that attracts people into the living room. It's actually (whisper it) a gas fire. But visitors wouldn't know … apart from the fact it generates welcome heat within seconds.
So how is this magical fire being marketed?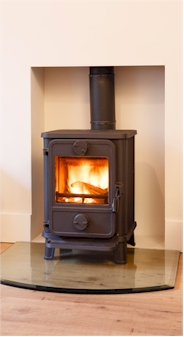 The product shots look something like this …
(Just to be clear, this fire is not the fire I'm talking about, but it's a similar marketing picture.)
To me, this kind of image says:
Sanitised, clinical, anaemic, generic, characterless, impersonal and cold (ironic for a fire).
The words alongside the company's photo are all about features, plus a few benefits thrown in: watch the flames and log-effects through a large 'window area', two heat settings, and a remote control, etc. Plus a list of all the sizes and connections required. There's also a reference to "fits with your lifestyle" – whatever that means.
It's boring and a bit 'Noddy'. But someone in marketing probably considers it's 'safe' and acceptable – because all the other fire manufacturers are doing exactly the same thing.
And that makes you think: What a massive opportunity to be different and to get a competitive advantage …
What if the company used a shot like this? (a different fire again) …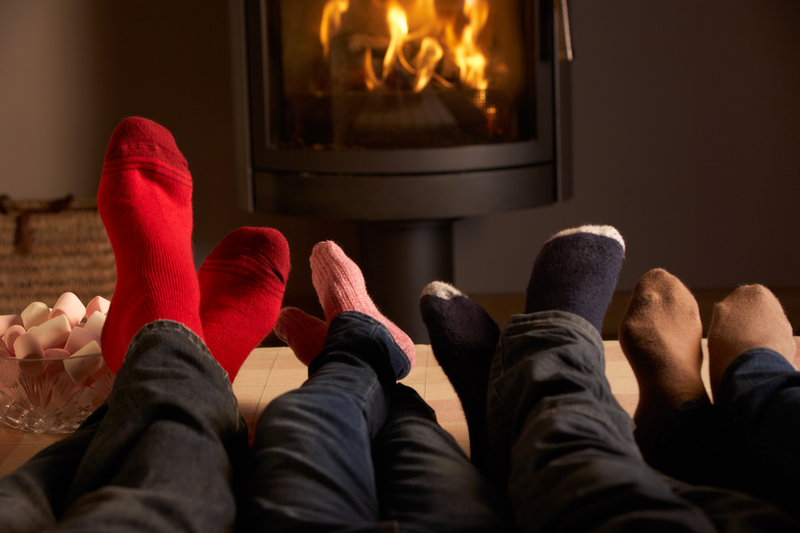 And some words like this (I've written what the fire means to me) …
"We're out at the cinema and come home late. The house is cold. But within moments, our living room is glowing with warmth. We sit beside the fire, laugh about the movie and have supper together. Home-made soup, crusty bread and whatever else we can raid from the fridge. Hilarious film. Great evening. Perfect ending. Winter nights wouldn't be the same without our woodburner."
Because the product is warm, the copy especially needs to be warm and passionate. It must speak to the senses. More than one. People relate to emotional and aspirational stories – especially everyday ones – not some unattainable dreams about climbing Everest.
This makes it much easier for customers to picture themselves as owners of a product – rather than to see a bland, cut-out shot and then try to connect this with their lives in a meaningful way. Not every customer is blessed with enough imagination to make the jump.
With B2B and tech copywriting, the same approach can be used. Business benefits are great. But what about personal benefits? What difference will Product X make to the lives of Dave, Sarah, Mike or whoever else is involved in the purchasing decision? How can you get them to invest some emotion in the product so they can be bothered to take the next step? People have to like it to want it. This is where creative e-books work well.
Great storytelling can make all the difference: Words that develop an emotional connection with the audience, addressing pain points and firing up their ideas and ambitions in a positive way. Product X really can change their lives for the better.
Otherwise we're just creating bullet lists of features … about stuff in boxes.
The best things in life are not things.
Let's talk more about people and their stories.
Contact me and let's discuss some good ideas for your campaigns.