With Valentine's Day almost upon us, I'd like to share a cautionary dating tale involving my wonderful friend Emma (not her real name). It's more of a fairytale of the Grimmer variety. But stick with it. If you're a marketing person, it may make you smile.
The story begins …
Like other professional 20-somethings, Emma doesn't have much time for dating. But she's made some good friendships at business networking events. She's at one now …
Enter Brian. He gets in a couple of drinks – and then goes a bit weird …

"Go out with me and save 15% on your typical boyfriend costs," blasts Brian. He actually shouts the word SAVE and a few people in the bar look round at them.
Emma can't believe what she's hearing. Brian continues.
"Worried about stalkers, creeps and spongers?" he yells.
"Erm, yes, I guess," says Emma. (People just like Brian, she thinks.)
"My parents gave birth to me in 1978. Since then, I've gained an enviable reputation for resilience and high performance. I won a fishing award when I was 12. My capabilities are very impressive," assures Brian. He goes on to name each of them in great detail. His interests too. Apparently, Brian has copies of his old school reports and is willing to post them to Emma, at no cost!
It's been a long day. Emma is tired. Too tired to move.
Mercifully, Brian seems to be winding down. "If you need support, I can do that. For FREE," trumpets Brian, as more people look round. "I'm multilingual and can support you in eight different languages."
I only speak one language, thinks Emma. And you don't understand that.
Brian pauses. He's building up to something. His face reddens.
"Marry me tonight and I'll treat you to a fast-food takeaway every night for three months," he beams confidently.
But Emma's gone. She'd slipped out of the venue.
What happened next …
My good friend Emma won't be marrying Brian anytime soon.
Two weeks later, she met Will, who shared her passion for swimming. And kissing. And kissing while swimming.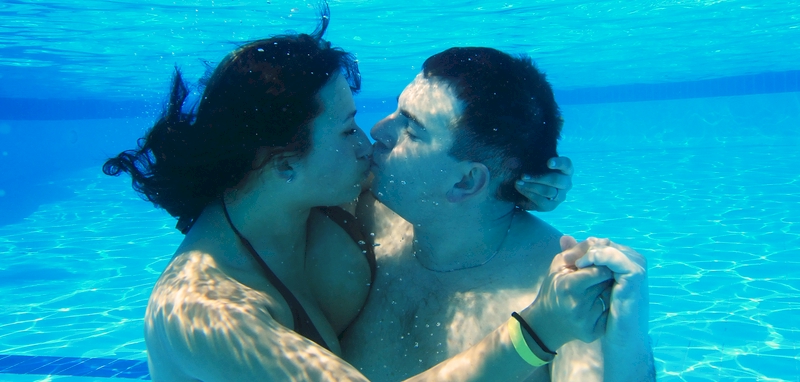 Nice one Emma 🙂
Five mistakes that Brian made (and the marketing sub-text)
1) He was abrupt, negative and shouty.
Marketing subtext: Tone of voice is important. The words must engage, charm, intrigue and connect with your audience on an emotional level. They must be clear, fresh and genuine too. From the first line … to the call-to-action.
2) He talked about himself rather than Emma.
Marketing subtext: The biggest and most obvious error. This shows arrogance instead of empathy. If it's bad before it's started, imagine what it'll be like later … after the relationship has been going for a few years!
3) Brian didn't understand what was most important to Emma.
Marketing subtext: 'Boyfriend costs' weren't foremost in Emma's mind (although, oddly enough, it did remind her of a couple of people). She wanted someone to make her laugh, who understood her, valued her and enjoyed swimming.
4) He was boring and completely irrelevant.
Marketing subtext: If Emma really got to like Brian, then maybe – just maybe – his old school reports might have made her laugh. But that would be well down the line. Speaking foreign languages were irrelevant to her. And she hated fishing.
5) Brian wanted a huge commitment – on a first date
Marketing subtext: Even if Emma really liked Brian, would she have invested in him so much on the first date? In enterprise B2B marketing terms, we're thinking about the steady progression from TOFU to MOFU and then BOFU. Before committing, Emma would also value the opinions of her close friends. Likewise, B2B commitments usually require the nod from a whole team of people – not just one person. Useful items like e-books and product guides must speak to everyone.
More adventures from Emma and Brian another time.
Contact me and let's discuss some good ideas for your campaigns.